Patek Philippe World Time Complications 18K White Gold Automatic Watch 7130G-001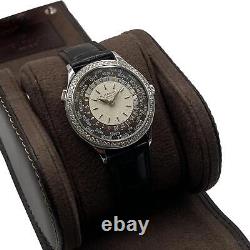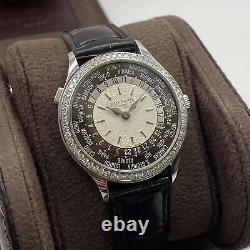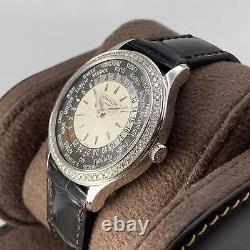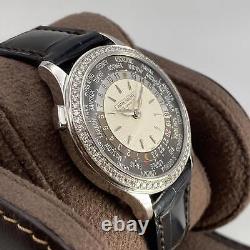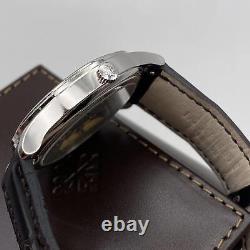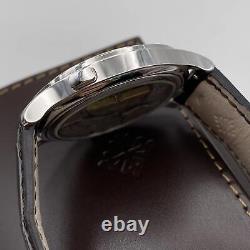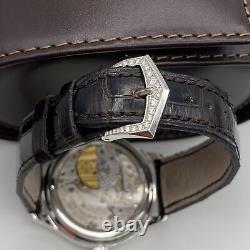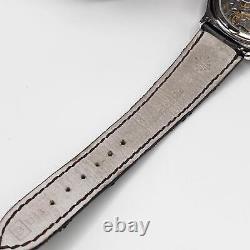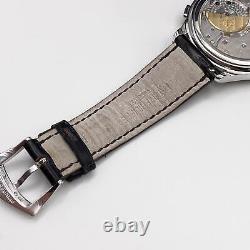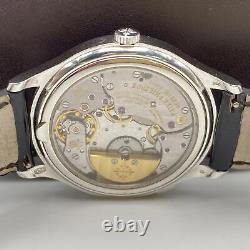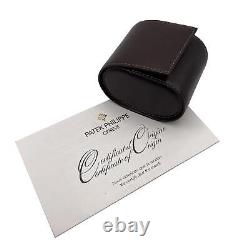 This Patek Philippe watch is pre-owned in good condition. The watch is set with 89 diamonds (1.092 Ct). There are scratches on the case. The band has minor signs of wear.
Timepiece will be refurbished to remove any noticeable signs of wear. Comes with a travel pouch and papers. Patek Philippe World Time Complications 18K White Gold Automatic Watch 7130G-001. 608 5th Ave, STE 408.
New York New York, 10020. Adjustable up to 7 inches. Diamond Accent, Fixed Bezel, Push/Pull Crown, Sapphire Crystal, Self-Winding, Swiss Made, Swiss Movement, Water-Resistant, World Time. 12-Hour Dial, 24-Hour Dial, Stick Indexes. Item must be in the same condition as it was received, and include all original booklets, box & packaging. Any signs of wear, water damage, or altering will result in refusal of your return. Special order items, such as items we do not have in our warehouse and are specially ordered from our distributor or items that have been customized, are non-returnable.
How to start an automatic watch? It's very important to wind an automatic watch properly, prior to its use. The initial wind provided may only last a short while, making the watch appear defective once it stops ticking. To ensure your watch functions to the fullest of its capabilities, wait for it to stop and then wind the watch counter-clockwise 15-20 times.
Next, push the crown back, screwing it down to preserve the water-resistance. Be mindful that excessively winding the watch may cause damages to the movement, so don't overdo it. Unlike self-winding watches, the crown doesn't need to be wound on quartz models. If it still isn't ticking, simply bring it by for a battery replacement. Why the watch is running slow? A watch can lose time for various reasons including, but not limited to a dying battery, which will cause the second-hand to begin jumping across several seconds at once instead of passing each individually, magnetization, causing tension between small parts within the movement and natural friction from the watch being worn. If the watch is a mechanical model (Automatic or Manual-wind) this can also be a sign that the watch needs to be overhauled. How to use a chronograph? Operating a Chronograph requires using the pushers on the side of the case. The top pusher is used to start and stop the chronograph hand while the one at the bottom is used to reset it. Once the top pusher is pressed, the hand will run continuously, which you can track using the accompanying sub-dial.
In order to reset the chronograph, it has to be stopped first. Otherwise the button will do nothing when pressed.
How to set the date & time? Whether you have a screw or push-down crown, setting the date and time is simple.
If its a screw-down, unscrew it by turning it downward, counterclockwise prior to following these steps. Pull out the crown to the first integer to operate the date alone, allowing the time to continue ticking. Pulling the crown out farther, you're then allowed to adjust the time, which also shifts the date after each 24-hour cycle. Once you have your watch set, simply push the crown back in all the way and screw it fully closed to preserve its water-resistance.
Do not change the date when the watch is between 10PM-2AM because the movement can be damaged. How to ensure the watch is waterproof? For a watch, water is the worst enemy.
To make sure you protect your watch properly check these factors before wearing it. First, see what kind of crown you have.
If it is a push-down crown the watch is definitely not waterproof, but water-resistant. If the watch has a screw-down crown, then it may be waterproof, but you should check your model's specifications to be sure.
Most importantly, no matter what kind of crown you have, you should check the watch for damages to the case, which will allow water to reach the movement regardless of whether the crown is closed or not. However, if you have any doubts, its best to have the watch water-tested, which will give you a conclusive result.

---