NH34 GMT Movement Custom Watch Explorer 2 40mm Automatic Solid Stainless Steel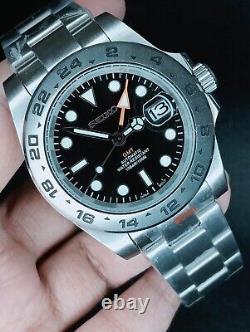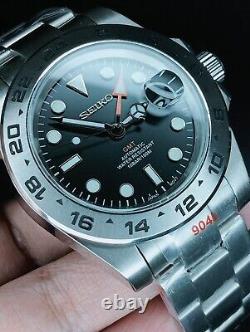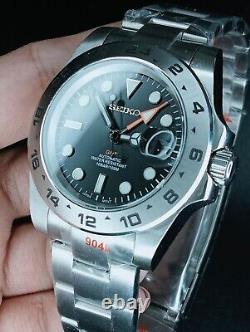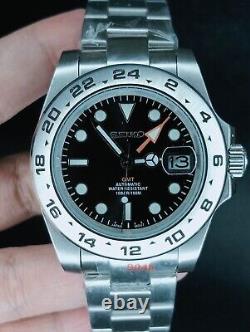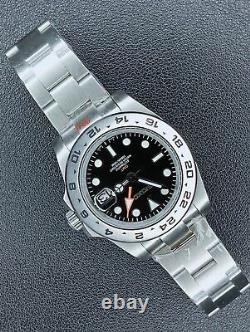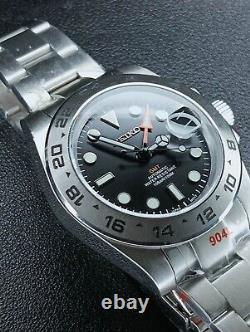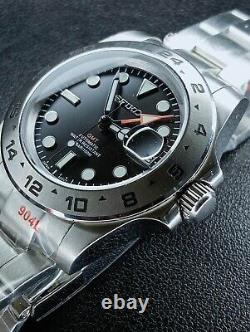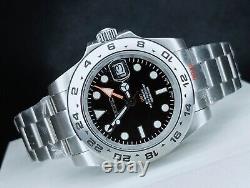 For watch collectors and connoisseurs out there, watch modding offers a chance to breakdown, build, rebuild and construct the watch of your dreams. Many brands, big or otherwise, give you the option of modulation - letting you impose your will on the fashion piece that goes on your wrist. From the straps to the dials, even to the crystals and hands, with the right watch, you can edit your watch to suit your needs.
Premium parts used, powered by Seiko-Produced movements (NH34, NH35, NH36, VK63), meticulously built with premium third party parts. Time graph calibrated for the builds with automatic movements, water pressure tested for the units with screw-down crowns.
GMT function working, unit powered by Seiko-produced NH34 GMT Automatic Movement. Components of this built timepiece. 40mm Solid Stainless Steel Explorer 2 Case Homage. Sapphire Crystal with Date Magnifier. Black Dial with Lumed Indices. Lumed Mercedes Hands with GMT Hand. Oyster Solid Stainless Steel Strap. Seiko-Produced NH34 GMT Automatic Movement. Water Pressure Tested for 300 meters.
WATCH INSTRUCTIONS: NH35 AUTOMATIC WATCHES. Setting the time on the Seiko NH35 movement requires 3 simple steps. Pull out the crown to the 2. Rotate the crown to set the hour and minute hands. Push the crown back in to the normal crown position.
Setting the date on this movement is just a simple as setting the time. Pull out the crown to the 1. Turn the crown downward to alter the date setting. To set the GMT Hand, pull the crown to second position, turn the crown upward to adjust the GMT hand then push the crown back in the normal position.
Pull out the crown to the 2nd position. Keep rotating the crown clockwise to set the hour and minute hands to the exact time. WINDING THE MAINSPRING BY SIMPLY WEARING THE WATCH.
By simply wearing the watch on your wrist, the mainspring is wound automatically as a result of the natural motion of your arm. To fully wind up the watch turn the crown a minimum of 55 times (Be careful not to overwind your watch as this can damage the movement, if you feel resistance stop rotating the crown). And pays for every package coming from The Philippines. I highly commit myself to giving my clients the best after sales experience.

---